You may feel as though a conservatory is a big investment financially, but there is a whole host of possibilities that can come when you choose a conservatory in terms of style and use. You may already have a good idea of how you would like this extra space to be laid out, but if not, we have some ideas here at Projects4Roofing that will hopefully give you some inspiration and ideas of how to keep your conservatory stylish and comfortable as we go in 2019.
We notice that many conservatories are built with good intentions and prospects in mind, of it being used as a second dining room or a social place together friends and family when they visit. Though, in reality, many owners find that once they have the room built, they just don't use it nearly as much as they once thought they would.
Recently, the traditional vision of what a conservatory is and what one looks like has been challenged. We are seeing that more and more the traditional glass or glazed roof is becoming obsolete. It's clear that having a glass roof can be extremely problematic when it comes to temperature regulation. This is the major reason that people end up not spending any time in their conservatory. In the winter it becomes far too cold and in the summer the room absorbs the sunlight and can reach intolerable temperatures. A solid roof is not only hugely effective in helping to keep your conservatory to a comfortable climate, but it can also create continuity from the main house to your extended area.
A conservatory with a solid roof is almost like having an extension but with a much smaller price tag and much more natural light!
So, whether you already have a conservatory and are looking to revamp and change things up or if you are planning on having one built in the near future and are looking for ideas when it comes to design and creativity, Projects4Roofing are here to help. Be sure to give us a call on 01638 778 335 to talk to our friendly knowledgeable team members to find out more. Below are a few ideas that you can use in order to transform your conservatory from an ordinary room into a space you love and are proud of.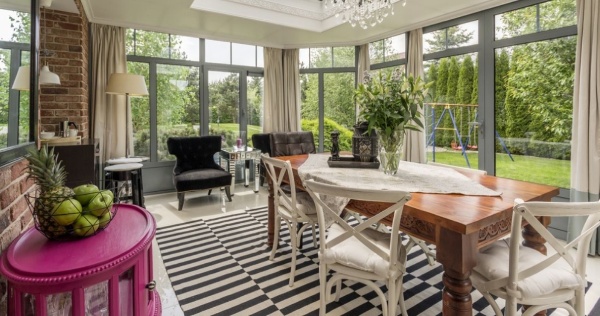 Bring the Outdoors In:
We all know that the British weather can be more than unpredictable, and it isn't always possible to sit outside enjoying the greenery when it could start raining at any given moment. Bringing the outdoors inside your home is very much on trend and is a great way to create a tranquil fresh feel in your conservatory by extending your garden with the added luxury of shelter.
Having plants in your conservatory not only creates a relaxing area which emulates the outdoors and looks pretty but can also bring its physical benefits, including:
Reducing Carbon Dioxide Levels,
Increasing Humidity,
Reducing the Level of Airborne Dust,
Reducing Levels of Particular Pollutants, Such as Benzene and Nitrogen Dioxide,
Keeping Air Temperatures to a Minimum
Some of the top houseplant trends set of 2019 include succulents, spider plants, cheese leaf plants and the prayer plant. Not one for caring for plants? Botanical prints in leafy greens, teamed with shades of white are a great choice.
Flooring:
As conservatories are predominately made of glass there isn't much room for colour or pattern to be incorporated. One way to bring a touch of design into your conservatory is through the use of flooring. Tiles are a great way of adding some character and a bit of a personal touch. There are many other flooring options such as wooden flooring, and the use of rugs and carpets. Before deciding on which type of flooring you would like to go for it is important to consider the following:
Will you be able to regulate the heat?
Will there be a door leading into a garden, which could mean people bringing in dirt from the outdoors?
What are you going to use the space for?
What kind of look and feel are you trying to create?
What is your budget?
Accessories:
Once you've got the basic layout of your conservatory planned out you can start thinking about the accessories that you'd like to put in the conservatory.
Would you like to make it into a technological hub with smart home technology throughout? There is a world of products out there connecting us with each other and the rest of society with the click of a button or even by simply saying a command. Some of the most popular smart home technology at the moment includes the Amazon Echo and the Google home. Both are extremely popular products on the market at the moment and can bring your conservatory into the 21st century allowing you to listen to music, find out the latest news and weather forecasts, receive reminders and even control your lights, thermostat and tv - all by your voice.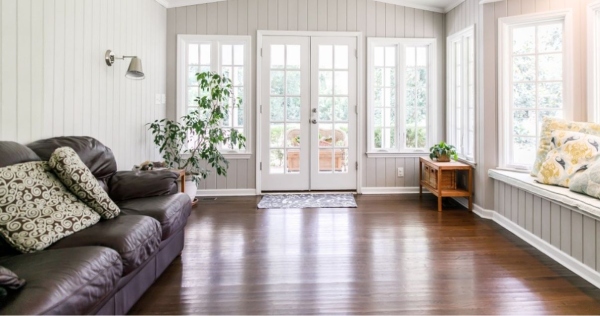 Perhaps you would much rather keep your conservatory a tech-free zone and instead fill it with books and a couple leather sofas, where you can quietly lose yourself in the pages for hours. Maybe when summer rolls around you decide to convert your conservatory into a dining space with a classic table and chair to accommodate family members and guests. You could even incorporate a wine cooler for easy access when you're feeling like a glass of Pinot Grigio on a warm summer evening!
Some of the top interior design trends forecast for 2019 are floral patterns, millennial pink, black and white decor and during winter and autumn, the ever popular cosy Scandi look. this is a great choice for the current winter, with its chunky blankets and soft textures - an easy way to inject unmistakable comfort into the room.
However you wish to kit out your conservatory, make sure you plan ahead, have a good idea of your budget and know what you would like to get out of your conservatory design/space in 2019. If you're interested in getting a new conservatory roof, be sure to get in touch with a member of our team today on 01638 778 335.