If you've been thinking about a solar panel installation for a little while, you've possibly already researched things like how much money you can save by going solar and how much energy you can generate.

Your current questions are more likely to be around the practicalities of things - like who are the best solar panel installers, how quickly your solar panel installation might be completed, the likely disruption to your daily lives while your solar panel system is being installed, and the reassurances and guarantees that you'll have.

In this article, we're going to answer all these questions to put your mind at rest, giving you a clear overview of what a Projects4Roofing solar panel installation process looks like.


What does the process look like, from inquiry to installation?


The first step in our process is for you to have a friendly chat with one of our team members over the phone.

This initial call gives you a chance to ask us any questions on your mind. From our side, we'll ask you a few basic details like your name, property address, email address, and what you're looking for from a solar panel installation.

This will give us everything we need to start with our clear, transparent process.


Research and outline proposal
Once we've got your property details from our initial call, we'll start researching.

We use a really advanced piece of software that allows us to pinpoint your house, and look at things like the available roof space, Azimuth angle (the compass direction that your roof points in), and also the likely tilt angle for your solar panel installation (best results are achieved between 30 and 40 degrees).

Once we've done all the important calculations, we're able to put together a reasonably accurate outline proposal which will include the details of the compatible solar panel installation options for your property, and how much the installation is likely to cost.

Our aim with the research and outline proposal stage is to give you all the information you need to decide whether a solar panel installation is right for you.


Survey and discussion
If you receive your outline proposal and you're happy with the details and quotation, it's time for us to move on to the next step.

This involves us coming round to your property at a convenient time, and conducting an in-person survey. This is really to make sure that all the information our software has provided is correct and gives us the opportunity to manually measure your roof to ensure the recommended solar panel will fit.

As part of our survey process, we'll check the integrity of your roof and advise if any repairs are needed to support the installation of solar panels.

We'll also need access to your electrical consumer unit to make sure that it's suitable for a solar panel installation. To manage expectations, it's sometimes the case that we advise you'll need an upgrade to your consumer unit to support solar panels - but we can talk through all the details of this with you.

Our visit to your property also allows you to ask us questions about the installation, our company, and our process. We want you to feel completely comfortable.

After we've done our on-site survey, we'll be in a position to go away and draft a full written proposal, which will be a more accurate document than the outline you've already received.


Agree on an installation date
Once you've had time to consider and sign our written proposal, we're ready to get started.

Our team will be in touch to confirm an installation date for your solar panels and also confirm a date for the erection of scaffolding - which is typically a few days before your agreed installation date.

At this point, we'll also confirm how long your solar panel installation will likely take.

If you opt for a standard installation without any battery storage - it will typically only take one day to complete your project.

If you opt for battery storage, there is a little more electrical work to be completed - so it might take an extra day or two.


Erection of scaffolding
To help ensure that we're able to install your solar panels safely, it's important that we put up scaffolding.

We know that scaffolding can be an eyesore on your property, so we aim only to install it a few days before your agreed installation date and take it down as quickly as we can afterward.

Once scaffolding has been erected and inspected, we're all ready for installation day!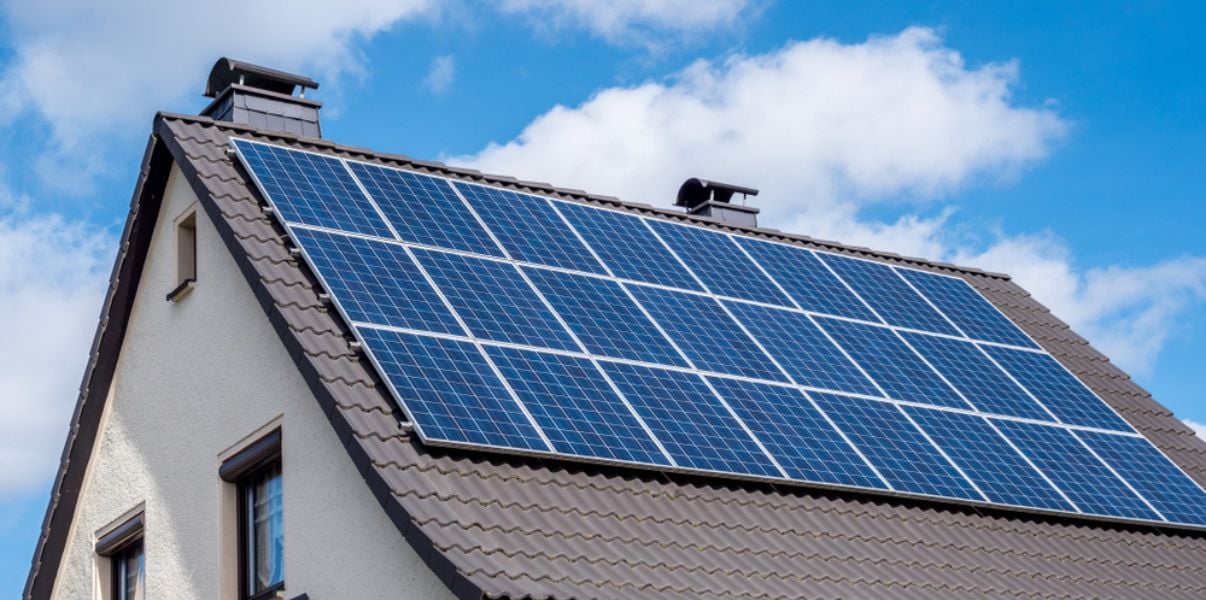 Installation
On the day of your solar panel installation, two Projects4Roofing solar panel specialists will visit your property to complete the work.

They will install all the necessary rails and mounting brackets for your solar panels and then make sure your panels are installed safely and securely to withstand any wind or adverse weather conditions.

This roof installation process can typically be completed within a day.

If you're installing a solar panel system without battery storage, our electrician can typically complete their side of the work on the same day as our roofing specialists. So you could be up and running with your new solar panels in as little as one day!

If you have opted for solar battery storage, it generally takes our electrician two days to manage their side of the installation. So, your panels will be installed on day one, and the electrician will complete their side of the installation on day two.


Scaffolding dismantled and removed
We know you'll want any scaffolding off your property as soon as possible, so we always try to arrange the dismantling and removal of scaffolding within a couple of days of your solar panel installation being finished and signed off.


Registration, certification, and supporting documentation.
Once your installation has been completed, our office team will register your installation with the UK power networks so there's an official record of the installation.

We'll also send you a Homeowners Information Pack, which includes all the details you'll need to know about the system that's been installed.

In addition to this, we'll also send all the information and certifications you need to register for the Smart Export Guarantee (SEG) scheme and receive payments for any excess electricity you generate.

For your complete peace of mind, you can also expect to receive your guarantee certificate, which covers our workmanship for a period of 10 years.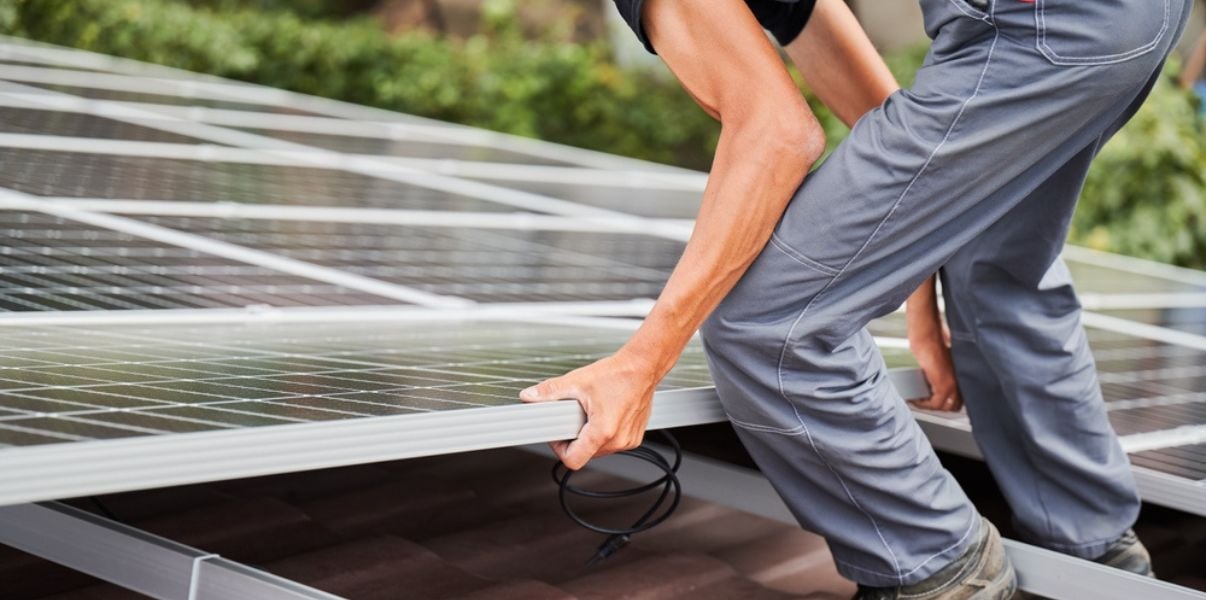 Who performs the Projects4Roofing solar panel installation?


Installing a solar panel system to your home shouldn't be undertaken lightly.

It's important that you have complete confidence in the company that will complete the installation that will help power your home for decades to come.

At Projects4Roofing, we've been managing roof improvement projects for more than a decade. A team of two experienced roofers will handle your solar panel installation.

Our heritage with roofing projects means that our team is not only able to install your solar panels - they are also able to check the integrity of your roof and make any repairs to roofing tiles to ensure your roof isn't prone to any leaks post-installation.

In addition to two experienced roofing specialists, we'll also have one of our qualified electricians to manage the electrical side of your installation.
What certifications or accreditations does Projects4Roofing hold?

We've got all the accreditations and certifications you need to have complete peace of mind in choosing Projects4Roofing for your solar panel installation.

Firstly, we're registered with the Microgeneration Certification Scheme (MCS), which not only provides you with the confidence that your installation will be completed in line with industry best practice but also means you're able to receive an MCS certificate so you can take advantage of the Smart Export Guarantee scheme for your excess electricity.

We're also registered with the Consumer Protection Association (CPA), which provides a two-year underwritten guarantee that covers your installation.

On top of that, we stand by the quality of our work and provide all our customers with a 10-year workmanship guarantee on any solar panel installation.

We're a Which? Trusted Trader, and we'd encourage you to take a look at testimonials left by our previous customers.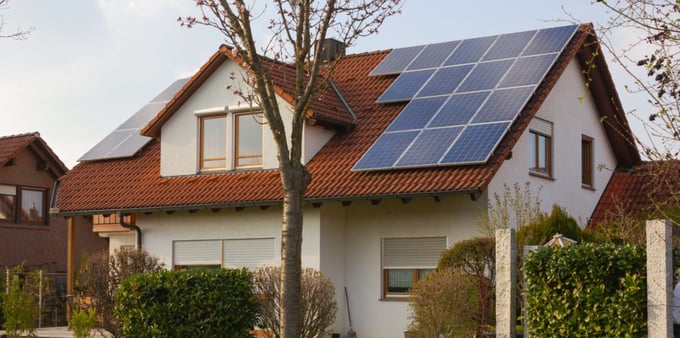 Are we able to stay in our home while solar panels are being installed?


This is all a matter of personal preference.

Installing solar panels isn't as disruptive as other home improvement projects. There shouldn't be lots of noise, dust, or too many workers on your property.

However, it's highly likely that our electrician will be in and out of your loft space and will need to run cables from your loft down to your consumer unit.

So, our electrician will need access to the whole house for a day (or two if you've opted for battery storage). This shouldn't be too disruptive, but if you're working from home, you might want to consider alternative arrangements for a day or so to avoid any distractions.


Why choose Projects4Roofing for your solar panel installation?


When choosing a company to install your solar panels, you must choose the partner that's right for you.

At Projects4Roofing, we've worked hard to make sure we excel in all the areas that are likely to be important to you:
A clear, transparent process

No pressure selling or 'time limited offers'

Over a decade of experience in roofing projects

MCS registered, so you can take advantage of the Smart Export Guarantee (SEG) scheme

Registered with the Consumer Protection Association (CPA)

10-year workmanship guarantee

Typical installations completed in 1-2 days.
So, if you're thinking about your choice of solar panel installers, why not give one of our friendly team a quick call and see how we can help?