Like any construction project, a conservatory roof conversion entails some unavoidable mess.
Some people might be put off by the idea of transforming their conservatory roof entirely. They might fear that their house will turn into a debris-laden building site.
But it doesn't have to be like that.
By making the right choices in your conservatory conversion project, and following our advice, you can ensure that mess is kept to a minimum from beginning to end.
What mess to expect
When you convert a conservatory roof, you need to remove the existing roof and install a brand new structure in its place. This will be a significant building project involving a number of labourers, potentially including roofers, plasterers, electricians among others.
Inevitably, some mess is going to be made. Once it's taken off, your old glass or polycarbonate conservatory roof effectively becomes rubbish and needs to be taken away.
There's also likely to be a considerable area in the conservatory and the garden where off-cuts, dust, parts, materials and sundries are strewn during the work.
However, mess shouldn't be out of control, and you shouldn't have to put up with it for long, or in areas unconnected to the conservatory conversion itself.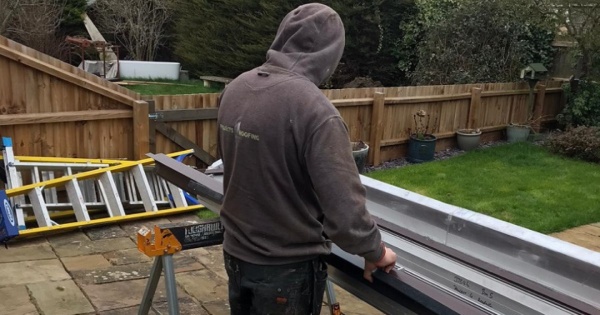 Here are our tips and best practices to ensure the minimum mess during your conservatory conversion:
1. Before Your Conservatory Conversion
As with all successful projects, preparation is essential. There are a few things you can do before the work even begins to keep mess out of your home.
Your conservatory is going to be the building site for a few days, so it needs to be empty before we can start. This is to protect your belongings and give the team room to work safely.
The Projects 4 Roofing team can help you move your furniture out of your conservatory so it doesn't get dirty during the conservatory roof conversion.
The floor is also completely covered and protected with Proplex Floor Protection, which are strong corrugated polypropylene plastic sheets that offer complete surface protection throughout your conservatory roof conversion. They are lightweight whilst still being tear, puncture and impact resistant. Plus, they are waterproof so they won't be affected by moisture.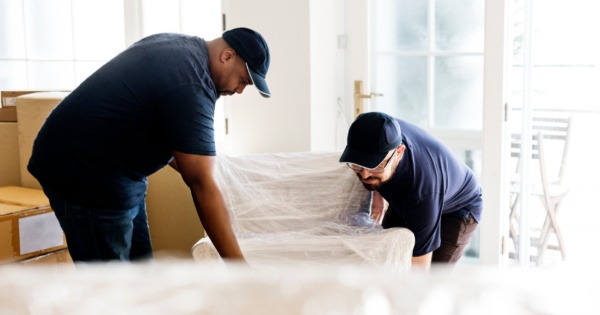 2. During Your Conservatory Roof Conversion
Separate workers from your home
One thing we're very strict on is the separation between your house and the conservatory while it's undergoing conversion.
None of our workers will enter your house at any point during the conservatory roofing work. Not only does that minimise the dust and debris getting into your home, but it's all the more important during the COVID-19 measures currently in place.
Social distancing is still a top priority, even if you've had your vaccines already. But also, the last thing you need is a group of workmen treading in mud and leaving dust on your living room carpet twenty times a day!
To minimise mess, a separate entrance for workers should be agreed, usually a side gate to the garden. If your conservatory is open to the rest of the house, we will also board up the opening to minimise mess and contact.
Choose a tidy roof system
Not all conservatory roofs systems are the same when it comes to messing. Some roofs require on-site measurements, adjustments and/or preparation of roofing materials.
This causes extra mess from scraps, sawdust, and pieces of roofing materials. It also extends the length of time the roofing process takes, creating more opportunities for dirt to build up.
Alternatively, some conservatory roof systems arrive on-site ready to install, with no need for extra adjustments. That's part of the reason we always use the Guardian Warm Roof.
With a Guardian Roof, all roofing materials are measured and prepared to the exact specifications of your conservatory ahead of time. They arrive mess-free from the fabricator on the first day of the conservatory roof conversion.
This is part of the reason we do an extensive on-site roofing survey before starting work on your conservatory roof.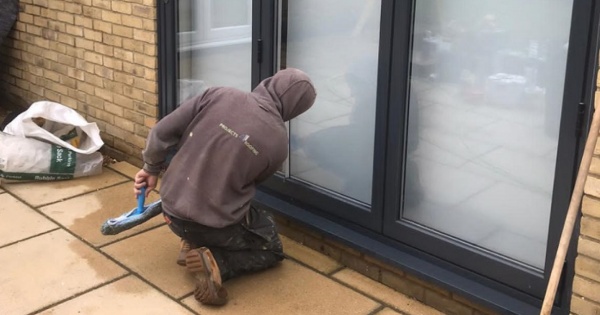 3. Cleaning Up After A Conservatory Roof Conversion
Even with a pre-fabricated model like the Guardian Roof, installing a solid roof conservatory will result in some mess in the conservatory and surrounding areas.
What many construction companies will do – and what we really disapprove of – is leave you in the lurch to tidy up their mess. At the end of the project, rather than make every effort to sweep, clear and clean up, many roofers will just walk away.
At Projects 4 Roofing we find this incredibly disrespectful behaviour, and we make it our number one priority to leave your home neater than when we arrived.
After finishing each conservatory roof conversion project, we always clean up any mess or dirty areas and remove all rubbish. Rubbish is transported offsite to be disposed of, or recycled when possible, so you don't have to even think about it.
No skip hire, no calling the council for removal – it's all taken care of and part of the same fixed price quote we give you at the start of your project.
You'll never find leftover tools or materials after we've finished your conservatory roof conversion. And, as you'd expect, if we move something during the build, we'll move it back when we're finished.
Conclusion
Nobody wants to walk into their newly renovated solid roof conservatory for the first time and find themselves stumbling over debris, breathing in dust, and finding that mess has made it into the house.
A conservatory roof conversion can be messy, but if steps are taken before, during and after construction, you shouldn't even really notice it.
It helps to choose a conservatory roof type that doesn't create extra mess on-site. That's why the Guardian Warm Roof is the only conservatory roof we install. It produces little mess on your property during installation, and also makes for a warm, beautiful conservatory. Find out more about Guardian Warm Roofs in our full guide.
We take pride in the way we work – recognising that our customers and their homes should be dealt with in the same way we'd want to be treated. We understand that our conduct onsite and how we leave your property when we're finished leave an impression. At Projects 4 Roofing we always want that impression to be one of professionalism, care and courtesy.
Still have questions about the conservatory roof conversion process? Have a look through our blog for further articles, or give us a call today.