A leaking conservatory roof is a notorious problem in many UK conservatories. Many people with glass or polycarbonate conservatory roofs have to deal with all sorts of issues:
Cracks

Leaks
Condensation
Mould
But what's the best way to fix a leaking conservatory roof? And do you have the materials to do it yourself?
Read on to find out the best solutions to plug up leaks.
Don't Retreat – Repair!

In the event of a leaking conservatory roof many people simply cut their losses, remove their furniture, and abandon their conservatory altogether. It then lies unused, written off – an entire space in your home, neglected.

But let's be honest: you wouldn't put up with any other room in your house leaking. So why is it okay in the conservatory? You'd never give up your dining room or kitchen if the ceiling started dripping!

For those interested in doing something to repair their leaking conservatory roof, there are a few materials you can try. Some of these you can apply yourself, others are better in the hands of professionals.
Here are the options available, and which ones we recommend...

Duct Tape and Makeshift Solutions

For a glass or polycarbonate conservatory roof that's letting in moisture, the absolute priority is to stop the leak. That's where a quick makeshift solution can be immediately useful.

Every home has one of those drawers containing spare bits and bobs – a roll of string, a few old batteries, and every home handyman's best friend: duct tape.
Duct tape is a great product – strong, cheap, super sticky, and very quick and easy to use. A few well-placed strips over the leaking area of your conservatory roof should do the trick to stop the rain coming in for a few days.

However, it will probably only last as long as the next April shower before needing another layer of duct tape. In actual fact, it's not a great long-term solution and won't do much to transform your conservatory. Once a little moisture touches the tape it's a matter of hours before your conservatory is a damp den once again.
Other makeshift materials we've seen people use to cover leaking conservatory roofs include: bits of tarpaulin, various glues and sealants, varnishes, paper and sellotape – or even just the classic drip bucket underneath.

None of these solutions are going to last very long – if at all. The next option up is a little more serious.
Replacing glass or polycarbonate panels and fittings
Glass and polycarbonate conservatory roofs are extremely popular in the UK. But time and again we've come across leaks, cracks and slippage between the panels of these roofs, causing no end of problems for their owners.
Polycarbonate conservatory roofs are the biggest culprits of leakage. This is because the panels of glass or polycarbonate sheets are prone to breakage and slipping. When this happens, even the smallest crack or gap between the panes can let in moisture – turning into a torrent in your conservatory during a big rainfall.
Replacement of conservatory roof panels needs to be done by a qualified roofer. Installing new panels yourself or adjusting slipped ones as an unskilled craftsman will likely only lead to more damage down the line.
A good roofer will fix the leak properly, and even provide a whole new replacement polycarbonate conservatory roof for you – at extra cost of course.
However, because these materials do tend to slip and break, there's a good chance that you'll soon come across the same problems again – even if a professional installed the new panes. Fixing glass and polycarbonate conservatory roofs can feel a bit like a never-ending game of whack-a-mole!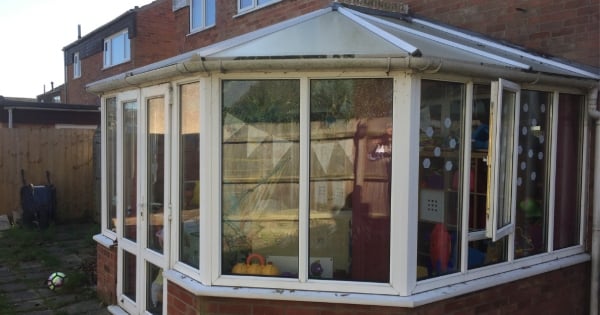 This is the reason we think the best solution is to replace your conservatory roof altogether, with the best materials available.
Guardian Warm Roof: The Highest Quality Replacement Conservatory Roof
If you have a leaking conservatory roof, it's because water is finding a way in, either through or in between the materials your roof is made of. The best and really only way to stop leaks for good is to install a roof that is entirely waterproof. A conservatory roof conversion with the Guardian Warm Roof provides just that.
Guardian roofs are multi-layered, fully insulated, solid conservatory roofs that will put an end to your leaking conservatory issues. They are made with the best materials to provide not only a waterproof seal around your conservatory, but also adequate ventilation and insulation so it never gets too hot or too cold inside.
A conservatory roof replacement with Projects 4 Roofing involves removing your existing glass or polycarbonate panels that are the source of the leaks in the first place. Once they're gone, we fit a Guardian Warm Roof with attractive full roof tiling to protect your conservatory from moisture under any conditions.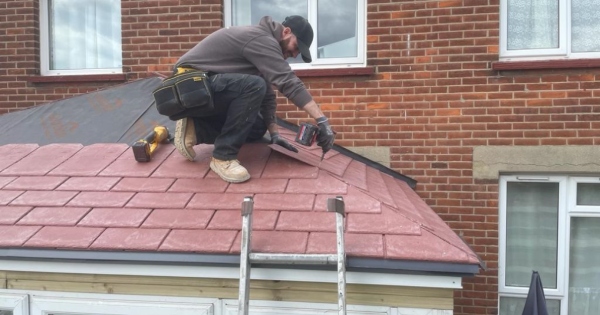 With a Guardian roof you won't have to keep going back up to the same polycarbonate panels with the roll of duct tape. A solid roof conservatory conversion eliminates all the biggest problems:
Mould growth
Drastic temperature changes
Regular repairs to slipped or broken panes
Draughts blowing through the conservatory
Loud rain noise
Overhead sun glare
The Guardian Warm Roof system is not the cheapest repair solution in the short-term. After all, a roll of duct tape is just a few pounds, and a day's repair by a roofer is less expensive than a full conservatory roof conversion.
However, in the long-run, not only does the Guardian roof use the best materials, but a conservatory roof replacement costs less than you might think. Compared to years of roof repair call-outs and minor makeshift fixes, the Guardian Warm Roof comes with a 10-year manufacturers guarantee, and — when installed by Projects 4 Roofing — an additional 20-year installation guarantee. With the stress and expense that you will save on repairs, the Guardian Warm Roof is really worthwhile investment.
Conclusion
Giving up your conservatory because it keeps leaking is a real shame. A home with a conservatory is a real luxury, especially with spring blooming at the moment. If you can't sit comfortably in the view of your lovely garden, you're wasting one of the most beautiful parts of your home.
It pains us at Projects 4 Roofing to see a conservatory neglected, especially as we witness every day the difference a conservatory roof conversion can make.
If you're considering a replacement conservatory roof, we believe the Guardian Warm Roof is the best solution out there.
Get in touch with one of our team to discuss your needs. Request a fixed price quote, and never worry about conservatory roof leakages again.