Perhaps one of the most common questions we are asked is, "How long is it likely to take to replace my conservatory roof?". The typical answer is that most of our conservatory roof replacement projects are completed within eight days.

But, to be more precise, we've caught up with our Installations Manager, Tom, to describe each stage of our installation process in more detail, explain why we provide a clear schedule before we start work and get his opinion on the potential dangers of rushing a conservatory roof replacement.


How much time does a conservatory roof replacement take?


When you choose Projects4Roofing to install your solid conservatory roof, you can expect your new conservatory to be completed within eight days.

One of the things that makes us a little bit different from other roofing specialists is that we don't just replace your conservatory roof. We also manage your electrics and plastering, as well as the building regulations process, and complete a thorough clean-up at the end of the project.

This is a typical breakdown of one of our conservatory roof replacement projects:

Day 1:
We'll help you clear furniture out of your conservatory and make sure your floor is protected. If required, we'll also cover any open doorways between your conservatory and the rest of your home.

Our installation team will remove your old glass or polycarbonate roof and replace it with your prefabricated solid conservatory roof, making sure it is watertight by the end of the day.

Day 2:
Our installation team will ensure all the electrical wiring is in the right place for your light fittings and sockets. We would also typically expect a visit from your local building control on the second day of your project.

Day 3 and 4:
Over the course of these two days, we'll continue with the installation of your new conservatory roof, making sure your conservatory insulation, ventilation, and tiling are all fitted to the highest standard. At the end of day four, the exterior of your new conservatory is likely to be complete.

Day 5:
On the fifth day of your installation, we'll turn our attention to the interior of your conservatory. Our specialist plasterers will make sure the interior of your new space looks as good as it does on the outside.

Day 6 (and potentially 7):
It's important to give plaster time to dry properly before we complete your installation by adding light fittings and sockets.

The natural drying process for plaster depends on the temperature, and can typically take between 1-2 days. So on days 6 and 7, you get to enjoy some quiet time, with none of our installation team on your property.

Day 8:
On the final day of your installation, our team will complete your 'second fix' electrics, ensuring all your light fittings and sockets are installed in the agreed locations.

The team will then complete a final cleanup so that your conservatory is ready for you to enjoy right away.

The final step on day 8 is for our Installation Manager to visit your property, inspect the installation and provide a final sign-off.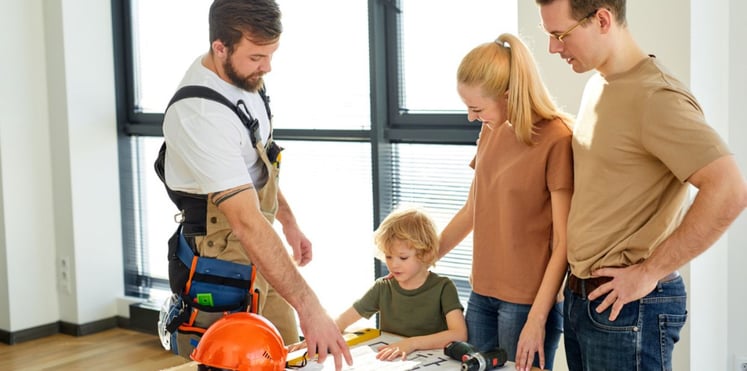 Why is having a clear schedule for the project important?


You We've been installing solid roof conservatories for over a decade, and we understand the common concerns that homeowners have about the process.

We appreciate how apprehensive you might be about preparing your home for a conservatory roof replacement. The potential disruption to your daily lives, and that you might be a bit uncertain about what to expect on any given day.

It's important that you have complete peace of mind and total clarity about what's going to happen on your property each day during the conservatory roof replacement process.

At Projects4Roofing, we believe in complete transparency.

That's why we provide a detailed day-by-day schedule before we start your project, outlining the work that we'll be completing and the team members that will be present at your home on each day of the installation.
Why do some competitors state it can be done in 2-5 days?


From over a decade of experience, we can confidently state that a conservatory transformation that meets high standards takes a team of experts between 7 and 8 days.

It has been brought to our attention that some competitors claim they can replace your conservatory roof in as little as 2-5 days.

In many instances, this comparison is misleading as it refers to only part of the process that we complete. Some companies will be happy to remove your old glass or polycarbonate roof and replace it with a solid roof - but will leave it to you to arrange for a plasterer to finish your interior and an electrician to install your light fittings and sockets.

Our 8-day installation process includes everything involved in transforming your conservatory into a beautiful, comfortable insulated space that you and your family can enjoy right away.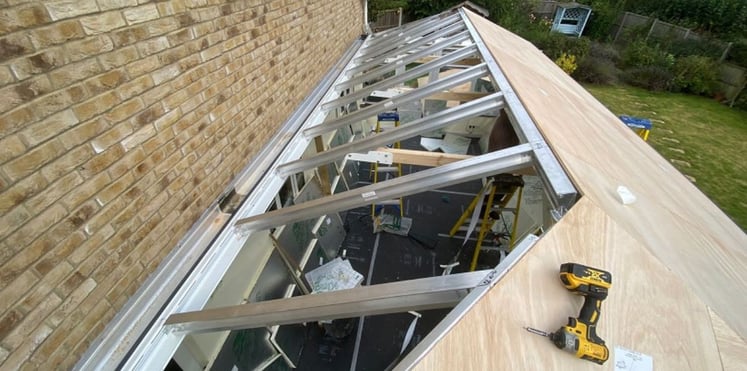 If more people are involved in the project, will it be faster?


There's an old saying that "many hands make light work". But this isn't necessarily true when it comes to installing a solid conservatory roof.

Most conservatories we transform are quite tight in terms of space, and having too many people on site can make things more difficult.

We generally find having a smaller, experienced team handling a conservatory roof replacement project is far more efficient.
Can a rushed replacement result in a collapsed roof?


We're not here to scare anyone. Although a collapsed roof is possible if your solid roof conservatory isn't properly installed, it's going to extremes of what might happen if your project is rushed.

But like anything, with a conservatory transformation project, you can either do it rushed or do it right.

At Projects4Roofing, we believe in doing it right, with a clear and transparent process that takes eight days. We get pre-approval for building regulations before we start your conservatory roof replacement project and arrange a visit from your local building control during the installation. We'll also issue you with a building regulations completion certificate at the end of the project, in addition to a 10-year product guarantee.

If you choose a rushed conservatory roof replacement that doesn't follow such a thorough process, it's possible that parts of your roof won't be installed or secured correctly. This is most likely to lead to frustrating issues such as condensation, draughts, and leaks.

But if workmanship is particularly sub-standard or negligent, it could potentially result in structural issues that can lead to a collapsed roof.

You deserve the conservatory of your dreams. Be careful about your choice of partner, and don't be tempted to rush things!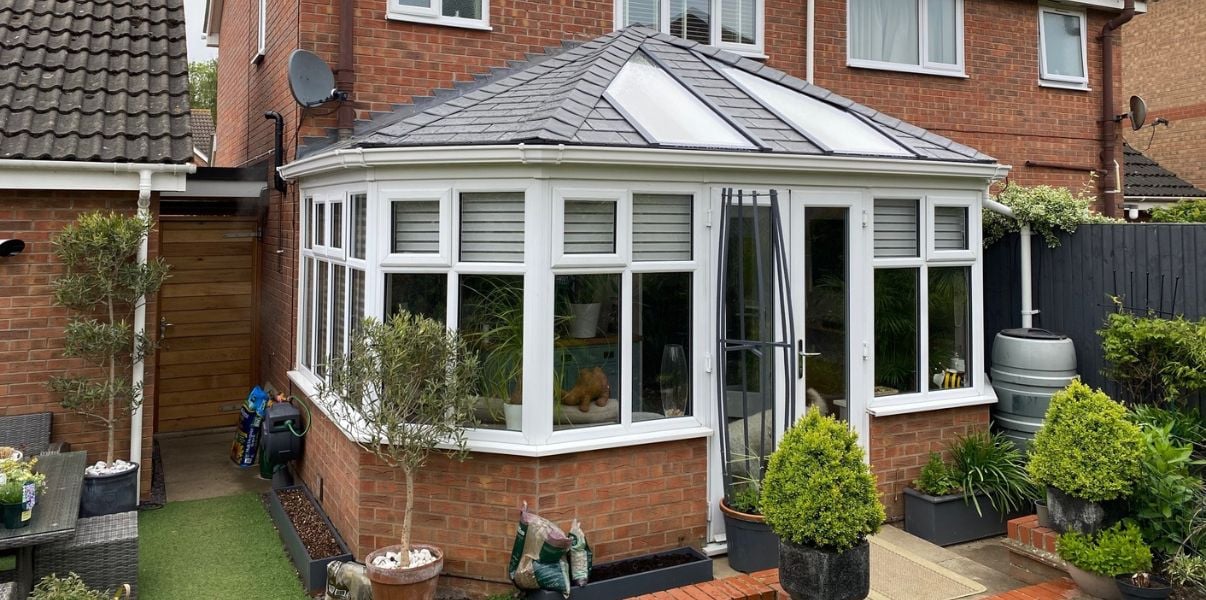 Can I replace my conservatory roof myself? What are the risks?


We wouldn't recommend attempting to install your own solid roof unless you're a qualified roofer with experience in conservatory roof installations.

Installing a solid roof conservatory is an intricate project. Without the right experience or certifications, you're likely to make mistakes or oversights that can impact the comfort, longevity, and safety of your new conservatory.

You may also struggle to gain building regulations approval if you don't approach your project in the right way.

Your solid conservatory roof should bring a new lease of life to your conservatory and transform it into a space that the whole family can enjoy in safety and comfort for many years to come. Don't put that at risk by choosing to attempt your conservatory roof replacement yourself. It's really not a DIY project at all.
Ready to get started on the conservatory of your dreams?


At Projects4Roofing, we have over a decade of experience in installing solid roof conservatories. We're a Which? Trusted Trader and TrustATrader approved.

Through our years of experience, we've developed efficient processes that allow us to install a solid roof conservatory of the highest quality in as little as eight days. And as soon as we're finished, your new room will be ready for you and your family to enjoy.

Take a look at the testimonials from our previous happy customers for examples of our previous installations and what we're like to work with as a company.

Get in touch with our friendly team to ask any further questions you might have, and take the first step on your conservatory transformation project.