Some people come to us with a very clear idea of what they want for their converted conservatory.
Others just know they want a conservatory transformation and will decide what to do with it once the project is complete.
We've put together a few ideas – some already popular, some more innovative – that will help you enjoy your Guardian roof to the maximum this summer.
Hot Days – Hot Ideas

A converted conservatory with a Guardian Warm Roof will allow you to use your conservatory all through the summer months. Yes, even on those extra hot, sunny days!

So many of our customers come to us because they're fed up with not being able to even enter their conservatory when the weather warms up.
Stuffy.
Steamy.
Stifling.
Summertime can be unbearable in a conservatory with a glass or polycarbonate roof.

A conservatory roof replacement does away with the cause of this discomfort (your old roof). The solid conservatory roof we fit in its place is designed to keep the room at a reasonable temperature through whatever conditions outside. This means a whole world of conservatory uses becomes possible.

Converting Your Conservatory into a Useful Room

The Guardian Warm Roof is our chosen solid roof model at Projects 4 Roofing. Not only are we experts at fitting it, but we believe it offers the flexibility and full range of advantages for almost any conservatory customer.

As a solution for summertime overheating, the Guardian roof tackles the issues in two ways:

1) Conservatory insulation
Guardian roofs are fully insulated with multiple thick layers of high-performance insulation. An insulated conservatory creates an effective barrier between the hot summer air outside and the interior of the conservatory. The heat stays outside where it belongs, leaving you on the other side of the insulation, cool and comfortable.

2) Blocking sun glare
Unlike the glass or polycarbonate panels that many old-fashioned conservatories are roofed with in the UK, the Guardian roof is solid. A solid conservatory roof provides a physical barrier between you and the sun's glare. No more putting your hand over your eyes to prevent you being blinded!

Sunlight from overhead is usually the strongest, being in the middle of the day. In summer directly above is where the sun spends most of the time. If it's allowed to shine into your conservatory directly it will heat everything up like a greenhouse. The Guardian roof is tiled and opaque, keeping the room much cooler. This makes it easier for you to read or work in your conservatory too.
Conservatory Ideas
A conservatory transformation is an ideal opportunity to add extra space to your house and unite the outside with the inside. After a conservatory roof replacement the options for using your conservatory really open up.
An insulated conservatory with a solid roof allows you to enjoy it all year long, no matter what the weather is like. With no more leaks, mould, or swings of temperature in the summer and winter, you can actually start thinking about some exciting conservatory ideas to make the most of your garden room.
Here are a few of our top recommendations for your new converted conservatory:
1) Get creative with interior design
Replacing your conservatory roof brings the opportunity to revamp a tired space. If you're investing in a conservatory transformation, it's worth putting in the time and consideration to renovate the design.
You can adjust your conservatory interior to match the rest of your home décor if it doesn't already. Often customers have updated their homes and neglected the conservatory in the meantime. It makes sense to use the conservatory roof replacement project to bring your style in line with the rest of the house.
Alternatively, many people prefer to get creative and design a whole new kind of space that's a complete change of tone. If you want a garden oasis with floral wallpaper and wicker furniture, go for it!
Perhaps you're planning to create a conservatory office? Some neutral coloured walls for a focused environment and some stylish new filing cabinets might be the order of the day. Be as creative as you like – the choice is yours!

2) Exterior design – roof tiles
As well as the interior, a new Guardian roof in place of your old glass conservatory roof is going to be an eye-catcher for neighbours and house visitors alike. Every converted conservatory we install has a range of attractive tiles and shingles to choose from. There are plenty of modern colours and finishes to make your new conservatory stand out.
Most customers tend to go for roof tiles that match the main roof(s) of their house – to seamlessly blend their conservatory with the building. However, you don't have to follow suit! Sometimes a contrasting colour works brilliantly to really make the new conservatory stand out.

3) Door vs. Open plan living
One increasingly popular conservatory idea is to do away with internal doors to the conservatory and make it a more integrated part of the home. With the right building regulations you can remove the internal door and do away with the physical barriers separating your kitchen or lounge from your garden room.
Remember, with an insulated conservatory, you won't experience the wild fluctuations in temperature throughout the year. So blending the conservatory area with your living room or dining area won't plunge the rest of the house into a freeze or a swelter.
However, if you're in the camp of having a separate snug or discrete getaway in the conservatory, it's fine to keep the internal doors. Enjoy the new space all to yourself – without interruption from the rest of the family!

4) Conservatory dining room
If your conservatory is big enough for a dining table, there's nothing like sitting down to a family meal in the surroundings of your garden. You can now enjoy your food without worrying about the roof leaking into your soup or everyone getting too hot before you even sit down.
A conservatory dining room is also a great idea for freeing up other space in the house. Move your table and chairs into the conservatory and you can enjoy eating under starlight or sunrise. But also, the old dining room now has space for a pool table, a big TV and sofas, or whatever else you need more space for.
5) Conservatory playroom
A warm, insulated conservatory is a great place for kids to spend time. A conservatory playroom, fitted with a rug or soft furnishings lets them enjoy themselves in a safe, bright space, out of the way.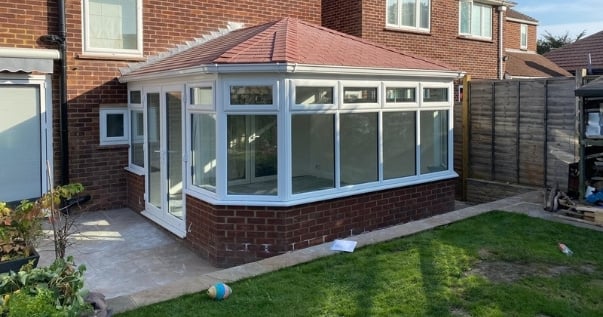 Conservatory Roof Replacement
All of these ideas can be explored with a few simple changes. Once your Guardian Warm Roof is fitted, adding plants, sofas, tables, or even just painting the walls can be game-changing. Flexibility is one of the great features of a dry, comfortable Guardian roof conservatory.
Having the wrong type of roof on your conservatory can be a waste of space, sunlight and warmth. Nowadays you have the choice between several roof options depending on your needs. Glass, high-performance glazing or polycarbonate each suit different conservatory uses.
But if you're looking for a great all-round quality roof to suit any conservatory ideas, a solid roof is your best bet. Get in touch with Projects 4 Roofing and we'll arrange a fixed price quote to convert your conservatory with a Guardian roof this summer.