Spending more time at home with the whole family, you can sometimes end up feeling a bit more isolated and separate. With everyone split up into different rooms, you might not actually be spending much time together at all.
A converted conservatory can revamp up your home into an open living space, allowing you to connect with your family again.
Transforming your conservatory into an open-plan living area can create spacious and relaxing multi-functional spaces for everyone.
Here are some ideas for converting your conservatory and enjoying the ease and convenience of open-plan living.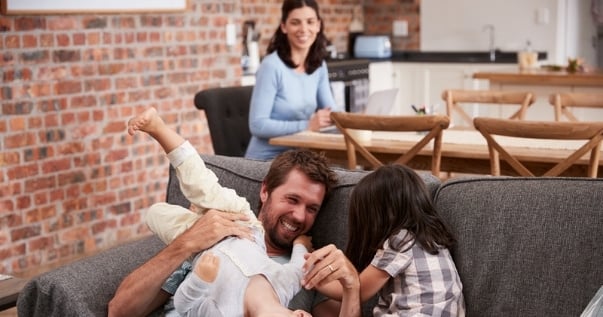 Ideas for Ideal Living

Lockdowns and restrictions have been tough. Not least for families squeezed into a house together 24 hours a day!

With one parent working in the living room, the other joining a Zoom meeting in the dining room, the kids all shut up in their own bedrooms for online school lessons – it's been stressful and cramped for many of us.

That's why we're seeing a big shift towards open-plan living, and people choosing to convert their conservatory to make that change.

It's popular for a reason. More open living areas widen the space, giving you the sense of a bigger, airier home. It also allows you to connect and check-in with other family members, and go from room to room with ease.

We always talk about the benefits of a warm, insulated conservatory for adding usable space to your home. Now we can show you how that conservatory transformation can be the keystone of your open-plan living revolution.

Conservatory Living Room and Dining Room

Open-plan living is all about removing the barriers between rooms. Whether that's getting rid of walls, doors, or different levels, the idea is to combine spaces and allow them to blend seamlessly into one another.

One of the most common uses for the space after a conservatory conversion is a conservatory living room. Equally popular is a dining room with a garden view, taking advantage of the new conservatory insulation.

Many people use the opportunity to combine these two rooms. Without a wall or doors between the dining room and living room, you can be having dinner at the table with your partner while keeping an eye on the kids only steps away. You're enjoying a meal – just the two of you – but if the kids need attention while watching TV you just have to look over into the next room.

It's hard to replicate this feeling of connection between family activities in any way other than open-plan living. This setup is particularly useful for big match days and get-togethers (once we can do those again). You're not too close to the kids to disturb each others' activities, but you're sharing a wider space and within close reach.

Furthermore, with a solid Guardian roof on your dining room or conservatory living room, you'll feel like you're in a proper room of the house.
Conservatory Playroom and Living Room
Combining two spaces used for leisure activities is probably one of the most obvious choices for your home's open-plan layout.
Kids' playrooms and living rooms are often the most used places in the home. This will only increase when workplaces and schools are fully open and there's less need to work from bedrooms and home studies.
Most families enjoy sharing leisure time, but not necessarily the same leisure activities. A combined conservatory living room and conservatory playroom is a great compromise!
Parents want to give children their own space to play, whilst being within reach in case assistance is needed. Equally, adults want to be able to talk to each other without being interrupted by kids making noise. An open-plan arrangement means a safer environment for kids and more tranquility for parents at the same time.
Transforming your conservatory into a combined living room and playroom means fewer but bigger rooms. Everyone gets their own share of the space to enjoy and gather in, resulting in more time together instead of divided into different rooms.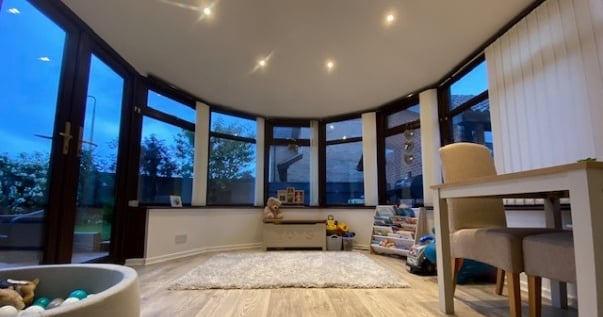 Conservatory Living and Study Room
The old rules of going to work in one place and enjoying downtime in another are gone. Businesses are finally accepting that productivity doesn't mean all work and no play. Working from home in a comfortable environment can achieve a lot more than simply being sat in front of a screen all day.
Working or studying can sometimes be stressful and requires a certain level of concentration. By joining your conservatory living room to your study, you can read, write and relax in the same space. No more time or effort to move away from work to take a break – you're already in a multi-purpose area.
Open-plan living means rethinking the way we live and use space in our homes. Perhaps you're not the type of person who can read or work with the TV on in the background. Nonetheless, a conservatory transformation combining living room and study means it's easier to make the most of your hard-earned breaks.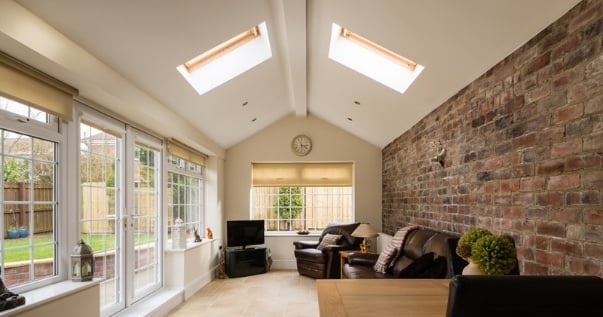 Conservatory Conversion with a Guardian Warm Roof
The essential step in creating the ideal open-plan living space is converting your conservatory. Transform your conservatory from a hot or leaky room into a warm, normal part of the house.
The best way to do this is by replacing your glass or polycarbonate conservatory roof with a Guardian Warm Roof.
The warm, insulated conservatory you'll have with a Guardian Roof means that the room stays the same comfortable temperature as the rest of the house. Summer or winter, a solid conservatory roof doesn't cause the same wild fluctuations in temperature that polycarbonate conservatory roofs suffer from.
That means whether it becomes a study, living room, conservatory playroom or dining room, your conservatory will be a pleasant place to be for as long as you need to be in there.
The Guardian Warm Roof is also remarkably durable. With a 20-year installation guarantee, you won't have to deal with the frustration of constant roof repairs. Unlike delicate glass or unreliable polycarbonate conservatory roofs, Guardian Roofs are built to last.
Now you have some ideas of how to use your conservatory as part of your new open-plan life. It's time to implement those changes with a converted conservatory that's up to the task.
When choosing a conservatory roofer, you should keep in mind that when removing the doors between your conservatory and home you will need to apply for Building Regulations Approval. Though if you go with Projects 4 Roofing, you won't have to worry, as we will take care of the necessary paperwork on your behalf and upon completion you will receive a Certificate of Compliance from your local Building Control Office'.
Get in touch with Projects 4 Roofing to discuss your conservatory needs. You won't have to worry about those old conservatory issues ever again.