Imagine a crisp autumn morning as you tiptoe downstairs to your conservatory conversion. Or even a cold winter's evening where you want to spend quality time with the family after dinner.
Wouldn't it be cosy to get warm around a wood burner, basking in the light of the flickering flames in your insulated conservatory?
Apart from being picturesque and inviting, there are many other reasons as to why you should think about installing a wood burner in your converted conservatory.
Plus, combining a wood burner with a solid Guardian Warm Roof can make an immense difference to your conservatory conversion.
This combination not only creates a cosy ambience whilst being tasteful in style but can potentially help with the reduction of your energy bills.
The Great Benefits of Wood Burners
Besides being a focal gathering point for spending quality time with family and friends in the wintry months. There are many other advantages to installing a wood burner within your insulated conservatory.
Reliable and alternative heat source:
With advancements in technology, nowadays we rarely experience power cuts. Yet with the increase of unpredictable weather in our winter months, many heating systems are prone to breakdowns.
A wood burner is reliable in the fact it doesn't need electricity, oil or gas to operate. Therefore, providing an alternative heat source ensures your insulated conservatory remains warm.
Environmentally friendly:
We all want to do our bit for the environment, so installing a wood burner, teamed with your conservatory roof insulation helps towards reducing your carbon footprint.
This is due to wood being a carbon-neutral fuel. Thus making wood burners carbon-neutral because they don't increase carbon dioxide in the atmosphere.
You could also go even further, making your insulated conservatory even eco-friendlier by burning wood waste from timber merchants. This helps stop unnecessary waste from going to landfills.

Energy-efficient:
Unlike open fires which are only 20-25% efficient, wood burners are nearly 80% efficient. This efficiency and effective heat output increases when combined with a solid Guardian Warm Roof. Thus reducing the energy bills of your insulated conservatory.
Decorative and stylish:
So not only are you saving the planet and getting effective heat output from your wood burner, but it also looks great!
Whether in use or not, your installed wood burner can transform your conservatory. Being a great focal point for entertainment whilst it adds style and character to your insulated conservatory. Definitely, a win win situation!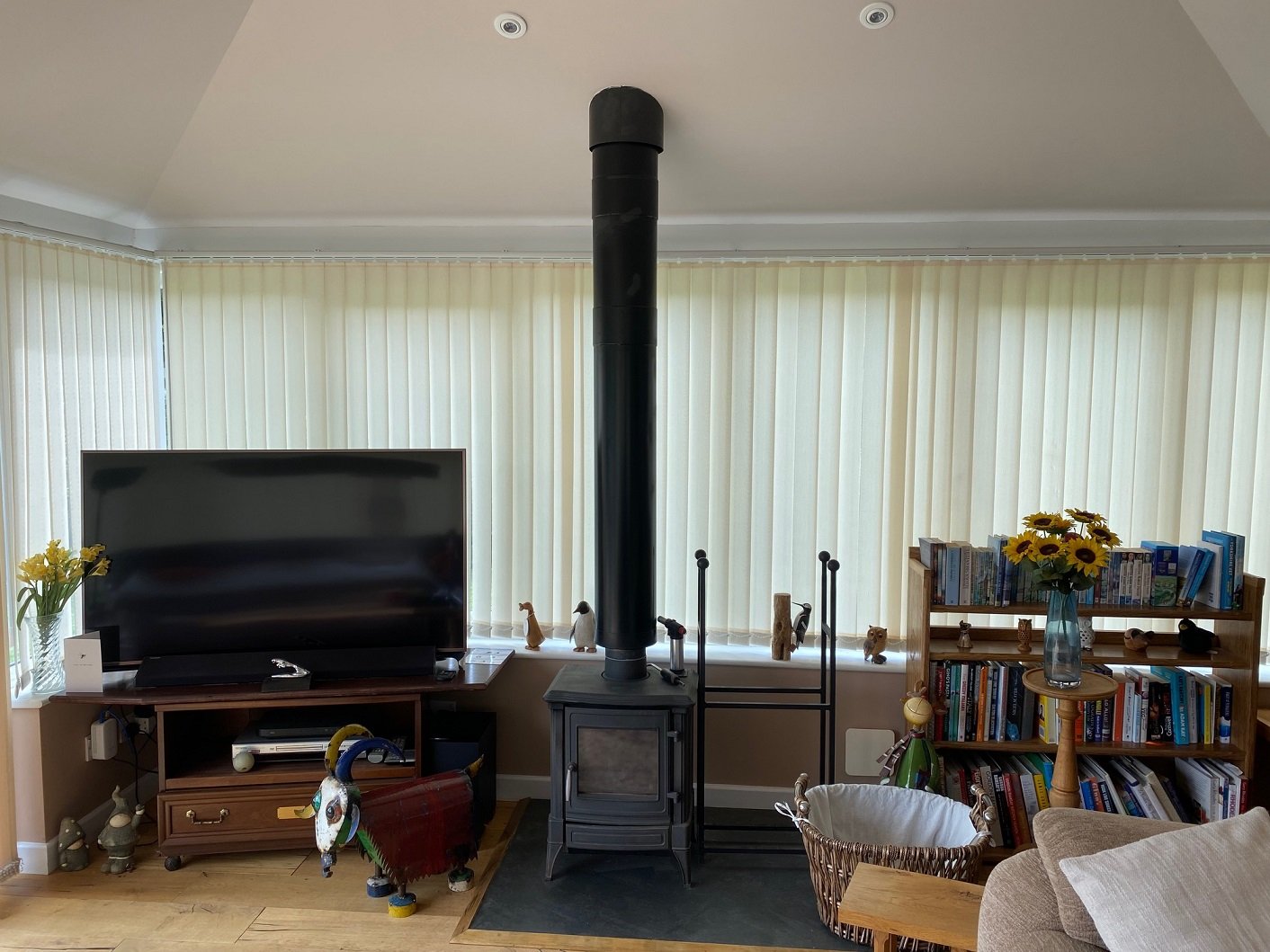 The importance of combining Wood Burners with

Guardian Warm Roof

s
Contrary to belief, the installation of a wood burner alone will not solve the problem of poor insulation in your converted conservatory.
Unless you transform your conservatory roof as well, you'll still have the problem of heat loss and thus burn greater amounts of unnecessary wood.
To solve all your problems and ensure you have a fully insulated conservatory; choose a Guardian Warm Roof.
A Guardian Roof is perfectly insulated, encapsulating all that heat within your conservatory during the winter months to keep you warm. Not only that but, the unique technology of a Guardian Roof allows it to repel warm air during the summer months, keeping your conservatory nice and cool.
Installation of a wood burner is not a problem to pass through the solid Guardian Warm Roof. Yet, you will need to check with the supplier or manufacturer of the wood burner, regarding external sealing and the min/max depth of insulation surrounding the flue.
So, if you're wanting to install a wood burner to fix a poorly insulated conservatory, be sure to combine this with your conservatory roof replacement, using a solid conservatory roof such as a Guardian Warm Roof.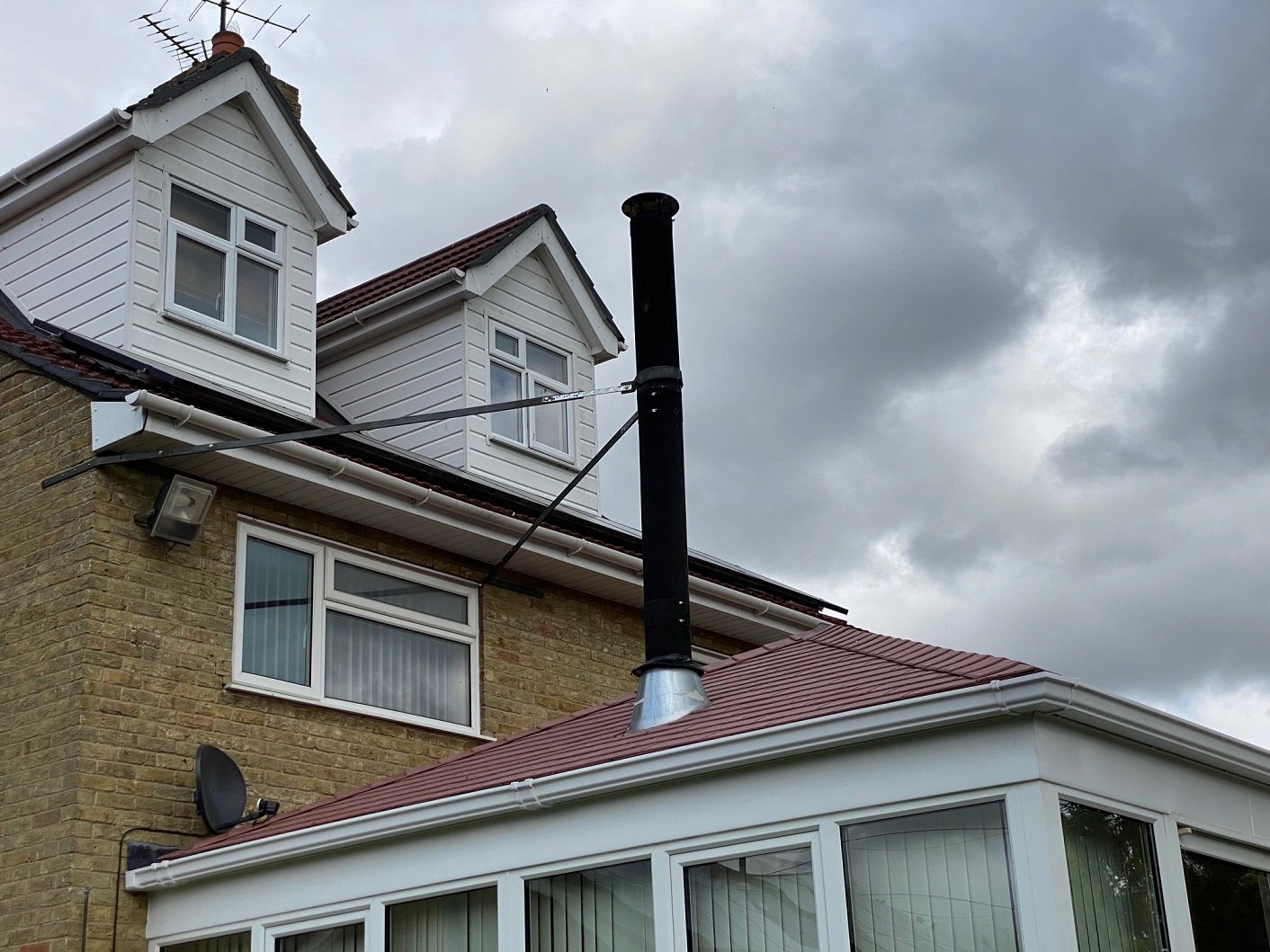 Projects 4 Roofing's experience with Wood Burners
We all like to do a spot of DIY, but some things are best left to the professionals.
Although there is no gas installation, installing a wood burner in your insulated conservatory is not something you should do yourself. An ill-fitted wood burner can pose an imminent risk and put your family and home in danger.
At Projects 4 Roofing, we have undertaken many successful wood burner installations. Mandating and managing the whole process, so you don't have to worry about a thing!
To ensure that fire safety and building regulations are adhered to, Projects 4 Roofing works closely with a qualified HETAS engineer, keeping your family and belongings safe.
Get ready for winter and choose our trusted Guardian Warm Roofs. Combined with a warming wood burner you'll have a purposeful, cosy and fully insulated conservatory to relax, unwind and entertain in.
For more information read our array of helpful blog posts and for any further assistance please do not hesitate to get in contact with our team.