The era of the home office is truly upon us. There was an explosion in working from home last year, and it looks like it's here to stay for thousands of us.
That's great for parents with children who have now gone back to school...but the summer holidays are just around the corner!
The familiar challenge of balancing a home-based job with taking care of the kids is due a return.
Luckily, we've put together some ideas to alleviate this stressful process – all with the help of a converted conservatory.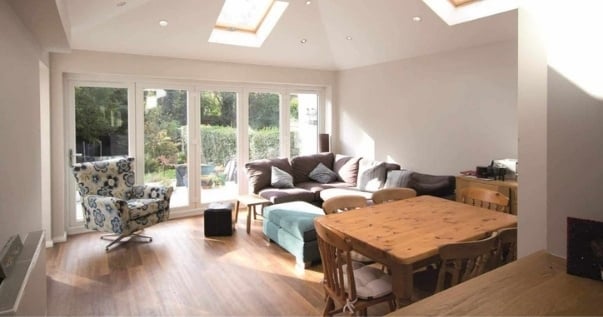 Conservatory ideas for a peaceful household
We understand your dilemma.
Working from home is great. Not commuting saves so much time, as you can get up later, enjoy a leisurely breakfast, and at the end of the working day you just switch off.
But there are times when being at home isn't the most conducive to productivity – especially when the children are around.
The biggest challenge to balancing home working and childcare is space. If you only have a small living room or you're having to set up your workspace in the kitchen or bedroom, there's a good chance that there will be disruption.
Kids like playing, and you need your own space to think. Sharing a tiny room is a recipe for trouble.
A converted conservatory can solve a range of household problems in one go, by turning the conservatory into a safe, quiet, usable room.
Open-plan living with a conservatory transformation
Children only tend to cause trouble when they need or want something – often it's attention. But generally speaking, if they have their own area and something to play with most kids are pretty self-sufficient.
One of the most effective conservatory uses we see people achieve is as a multi-function space.
A double-use conservatory playroom and conservatory office can be a place of balance and peace. On one side of the conservatory you can be on your laptop answering emails; whilst on the other side your little ones can be entertaining themselves quietly with toys or a TV show.
An area for open-plan living means you can get on with work but keep an eye on youngsters at the same time.
But what if your existing conservatory isn't large enough for open-plan space sharing?
An insulated conservatory remains a consistent, comfortable temperature all year round, so it feels like any other part of the house. If your conservatory is on the small side you can open the internal doors (or remove them entirely) and you have two distinct but connected areas for work and play.
Conservatory office
A conservatory with a polycarbonate roof isn't a good place to set up your home office.
We've had dozens of customers come to us for a conservatory roof conversion because they've tried and failed to work in comfort in a conservatory that gets too hot in the summer and too cold in the winter.
However, with a converted conservatory, the issues preventing you from spending long periods of time in the garden room disappear. A solid roof conservatory feels like any other room in your house because it's now insulated, ventilated and shields you from sun glare.
In a conservatory with well-regulated temperature and lighting conditions it's easy to set up your chair and desk, see your computer screen properly, and concentrate on your work.
Many people also find that a peaceful view of the garden during the day helps relieve stressful parts of their jobs.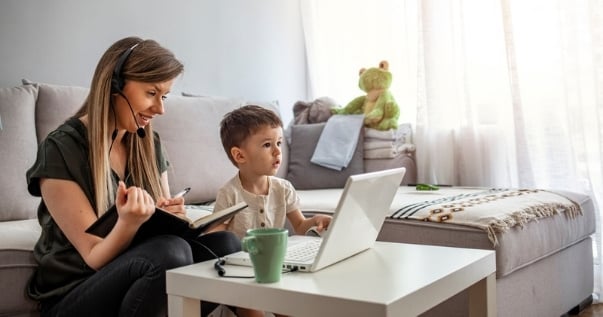 Conservatory playroom
A conservatory playroom is an ideal area for children, whether in the same double-use room as your office, or left to their own devices in the conservatory.
It's great to be able to keep an eye on them while you work. But as long as they're nearby and happy playing, chances are you'll have some peace and quiet to get on with your own tasks!
Playrooms are amongst the most used rooms in a home. Especially if they're in an open-plan setup, they're great places for families to spend time bonding together.
Depending on their ages, your children will use a playroom to take online school classes, hang out with their friends, play computer games, watch television – or just play!
A conservatory playroom with a solid roof will be a particularly popular choice – for the same reasons as it is appealing to you as an office space:
Good natural light
Outdoor views
Separate but connected part of the house
Not too hot or too cold
By transforming your conservatory this summer you'll be fully set up for both a home office and the upcoming school holidays. If you choose dual conservatory uses for the room, you'll be able to spend quality time with your kids even while you work.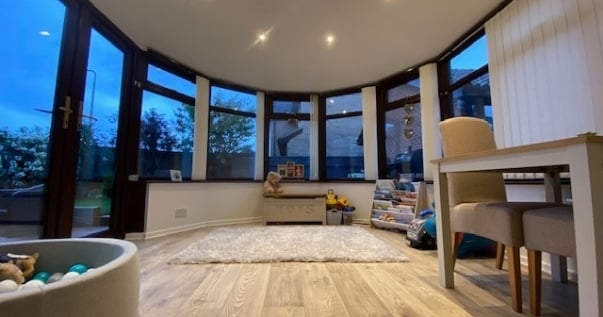 Go with a Guardian Warm Roof and Projects 4 Roofing
Guardian Warm Roofs play an essential part of our conservatory transformation service. Their quality construction and many benefits make Guardian roofs the best solution for your conservatory roof conversion.
Guardian Warm Roofs are:
fully insulated conservatory roofs, to protect you and your family from extreme temperatures and external noises
well-ventilated with plenty of space between the built-in insulation layers for air to circulate, keeping the roof dry and breathable
fitted in 8 working days on average by the Projects 4 Roofing installation team
We know that working from home and keeping your children occupied can be a stressful and complicated operation. But by creating a safe environment for your family, and enabling you to open up your living space, a converted conservatory can make the difference between a peaceful home and a domestic nightmare.
Get in touch with Projects 4 Roofing to find out how a Guardian Warm Roof can change your conservatory office and playroom setup before the summer holidays begin.